Did you know that you can crack or fracture your teeth if you use them improperly? In fact, cracked and fractured teeth are the third leading cause of tooth loss. If your child decides to use their teeth for anything other than eating, then they face an increased risk of damaging their teeth and facing costly dental repairs. You can help your child avert these risks by teaching them that teeth are not tools.
Don't let Them Use Their Teeth to:
Cut Anything other than Food
It is very tempting to use teeth to open a bag, tear tape or cut a piece of string, but teeth aren't scissors. When you try to cut something other than food with teeth, they are exposed to harder surfaces that aren't found in food. Additionally, the pressure needed to cut some of these objects is far greater than the amount needed to chew. This places unnecessary stress on teeth, and can cause them to crack or fracture, which results in a painful dental emergency that needs to be treated ASAP by a dental professional.
Hold Things
It is really easy (and incredibly tempting) to use teeth as an extra set of hands to carry that last item up the stairs or from the car, but teeth aren't hands and they aren't meant to hold things. Holding items in teeth is particularly dangerous, because one can easily trip and fall and sustain serious oral and facial injuries. Tell your child that they need to be patient, and protect their teeth and face from unnecessary harm caused by using their mouth to carry things.
Crack Nuts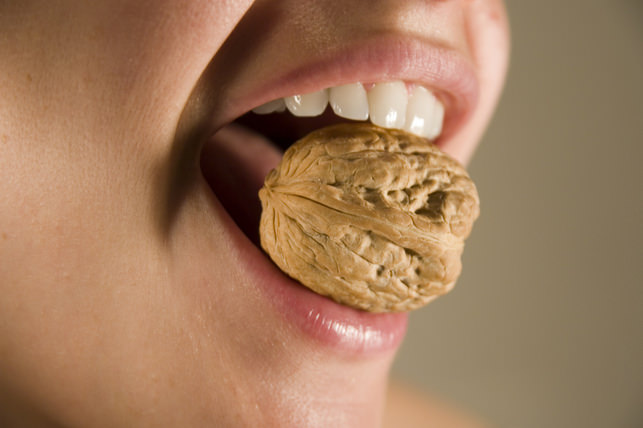 Nuts are delicious, but a lot come encased in a hard shell that could be cracked by teeth, but teeth are absolutely NOT meant to crack nuts. Trying to crack open a nut with teeth often leaves teeth fractured or cracked, rather than the nut. Tell your kids to stay away from nuts that have the shells on them, or teach them how to use a metal nutcracker.
Open Bottles

There's not many glass bottles that contain child-appropriate drinks as it is, but if your child likes mineral water or cola from a glass bottle, then teach them that a bottle MUST NEVER be opened with teeth. This is one of the worst, most traumatic things one can do to their own teeth and will likely cause a cracked tooth. Additionally, the hard metal surface can scrape enamel away from teeth, and leave them more susceptible to cavities. If your child must have a drink from a glass bottle, just go ahead and open it for them.
Teeth are Made for Chewing Food – and That's it
The bottom line in all of this is that are not indestructible, and really only designed to process food. If you allow your child, or if you decide yourself to use your teeth as tools, then you are exposing teeth to unnecessary harm that could cause painful, and expensive consequences. Teach your child that the only things they should use their teeth for are chewing, and smiling, and stress to them that teeth are not Swiss Army knives.